Spindle Motor Repair
Spindle motors are the driving force for all CNC machines. These motors are quite intricate due to the high speeds they run at while in operation. To maintain both the longevity of the motor's bearings and the finishes on the products being machined, it is critical to have very low spindle imbalance. Our spindle department uses very specialized equipment to properly diagnose and repair these motors.
Frequent Reasons a Spindle Motor Would Need Repair: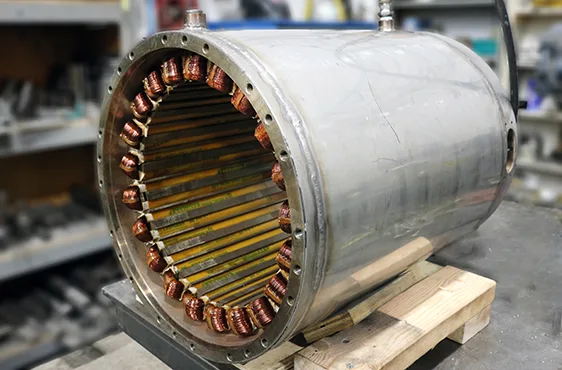 Spindle Cooling Jacket
Cooling Jackets on spindle motors are important in order to keep the motor cool during high load conditions. Part of our process includes thorough cleaning of the cooling jacket to ensure that coolant can freely flow through the jacket to cool it properly.
Failed Spindle Fan
Spindle fans are very important as they blow cool air over the motor to help prevent it from overheating. When fan bearings or windings fail, the spindle motor will overheat and prevent it from functioning properly.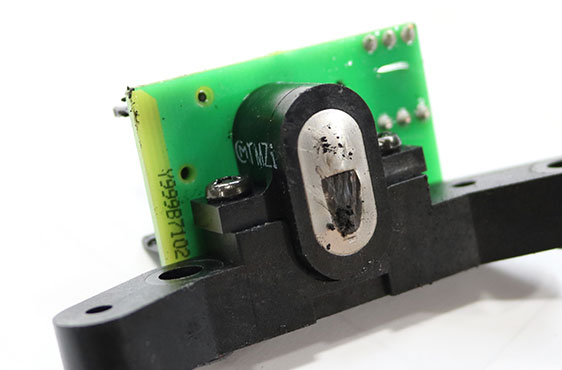 Failed Spindle Sensor
A spindle motor relies on a sensor to feed speed and direction to the drive. When a sensor fails, the drive no longer has control to run the motor at a specific speeds.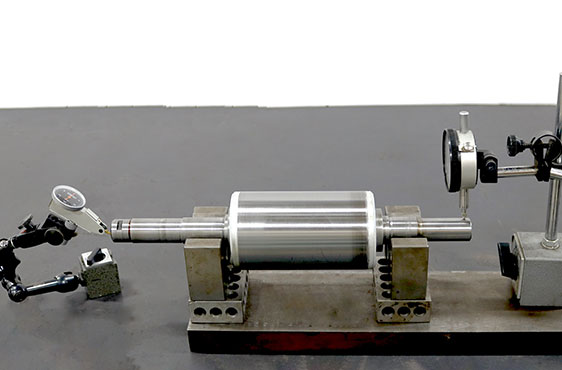 Bad Shaft Runout
Excessive shaft runout will cause vibration when run at high speeds and can cause premature bearing failure if not addressed.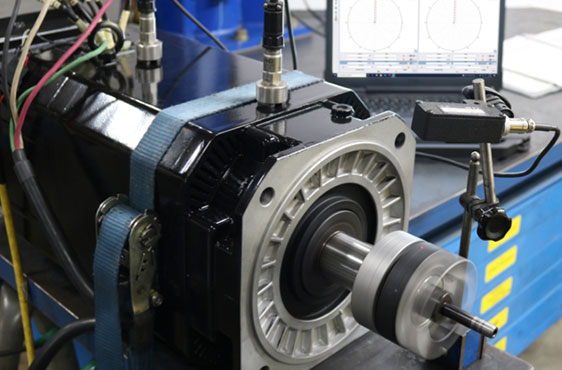 Spindle Motor Vibration Testing
It's very important to tweak vibration levels when the motor is fully assembled to ensure long lasting bearings and good machine finishes.
Servotech Repairs & Refurbishes Spindle Motors From These Manufacturers & Many More:
Allen-Bradley (AB)
Baldor
Cincinnati Milacron
Fischer
Fuji
Getty's
GMN
Haas
HSD
Indramat
Komo
Moog
Okuma
Perske
PSD Colombo
SKF
Our Repair & Refurbishment Process
Our goal is to refurbish spindle motors efficiently and effectively. Every spindle motor repair job goes through an extensive evaluation process, not only to find the problem with your spindle motor, but also to be sure we can repair your motor to "like new" condition.
A spindle motor is used to rotate either the tool being used in a machining center or a chuck to hold the part in a lathe. Regardless of the application, spindle motors run at higher RPM compared to standard servo motors. They are designed to be very precise to handle the speeds at which they run. Servotech's spindle department has all the necessary tools and knowledge to refurbish these complex motors.
When you send your spindle motor to us, we go above and beyond to rebuild your motor back to like-new condition.
Our spindle repair procedure follows these steps:
Checking In
When a motor is received, our shipping department goes through these steps:
Motor is photographed and documented
A unique job number is assigned to the motor
An acknowledgement is sent to the customer via email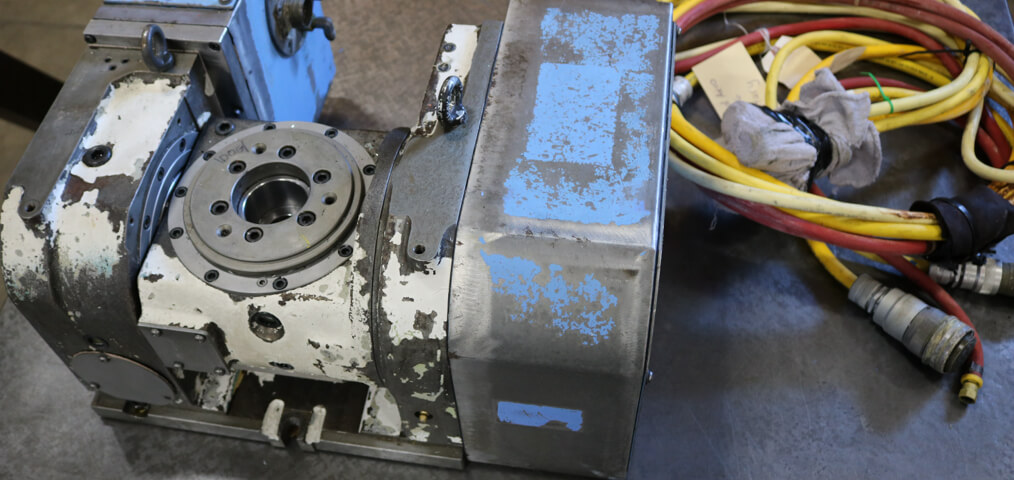 Efficient Evaluation
Some of the things our technicians check during an evaluation are:
Bearing fits and total indicated runout (TIR) on the rotor
Motor cooling jacket (if applicable)
Flange fits and mounting surface concentricity
Worn output shafts
Winding condition
Feedback sensor output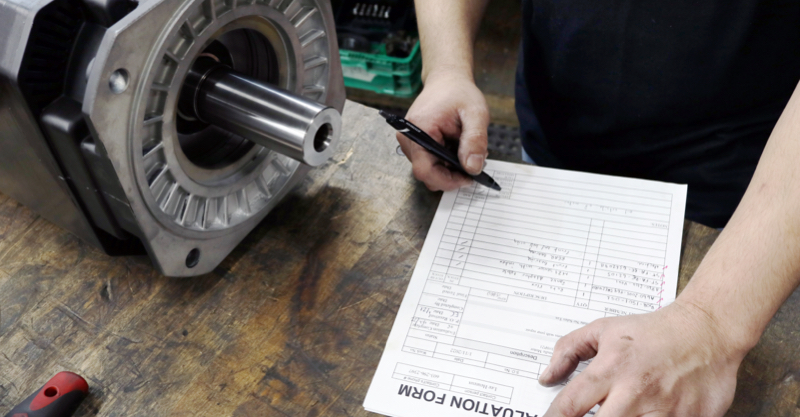 Quote
Once an evaluation card is filled out it goes to the office to get quoted. If there is something we do not have already have as part of our extensive stock, we will source it out. Each quote consists of:
The cause of failure
A list of all parts needed for repair
The job completion time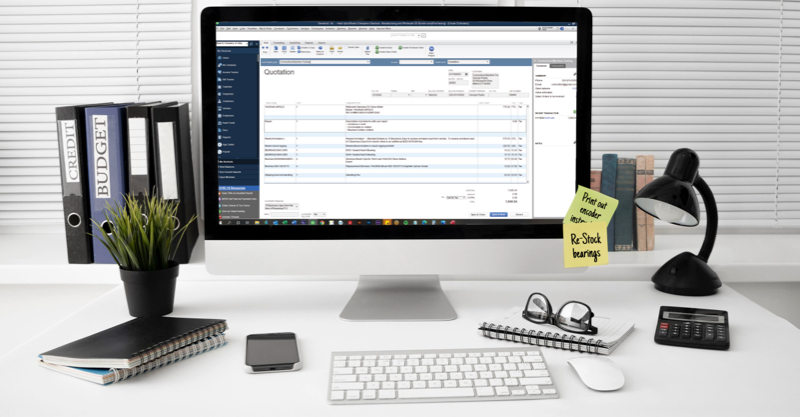 Expert Repair
Our highly trained technicians go through the motor and start to replace what is broken. Some of the things they do consist of:
Clean and sandblast all parts
Rewind stator if necessary
Machine all out of spec mechanical parts
Balance the rotor
Install new, high-speed bearings
Set up sensor outputs to meet factory spec
Once assembled indicate motor face and snap fit (if applicable)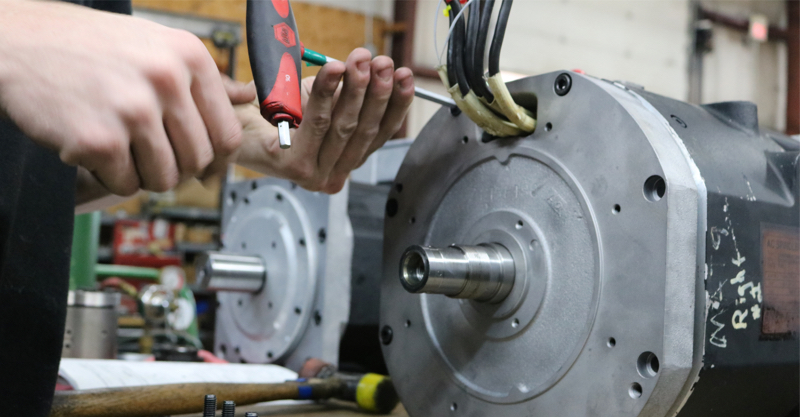 Final Testing
Once a motor has been repaired our technicians put it through final testing to be sure your motor runs as it should at full speed. These are the steps taken to test the motor's functionality:
Megger stator before hooking up to drive
Run motor on factory specific drive at full nameplate RPM
Final vibration analysis to ensure the spindle motor will run smooth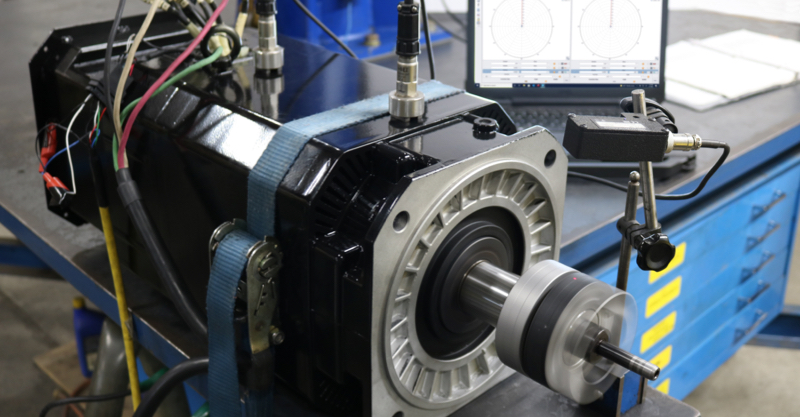 Painting and Re-Labeling
We don't just repair your motor, we paint it and make it look like new again. Paint is not just for looks; it also helps provide protection from outside contaminates. A new label is made with our job number for traceability.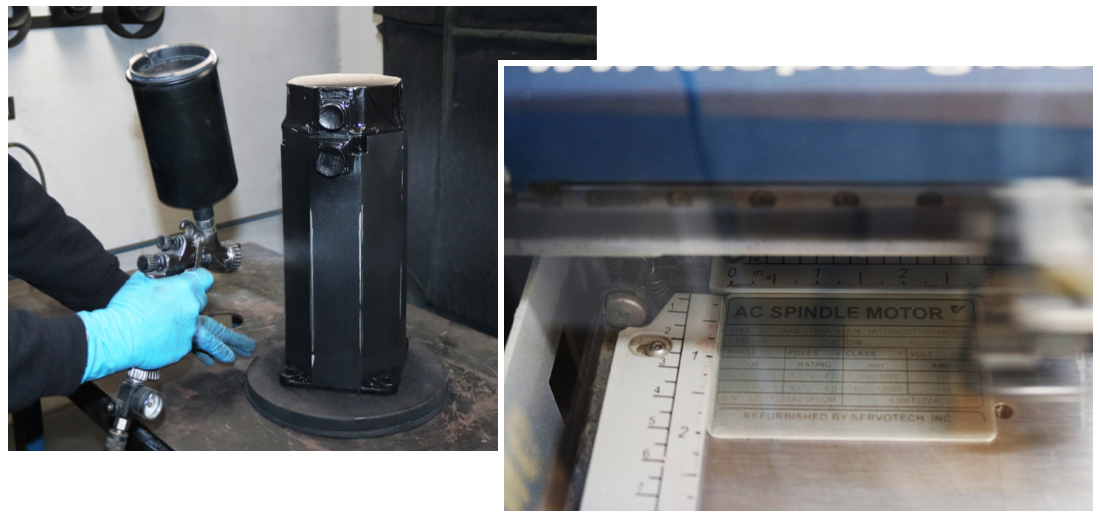 Return Shipping
Our shipping department goes the extra mile to ensure your motor gets back to you safely. We use spray foam packaging to secure the motor. For larger motors, custom crates are built to the motor size to ensure safe delivery.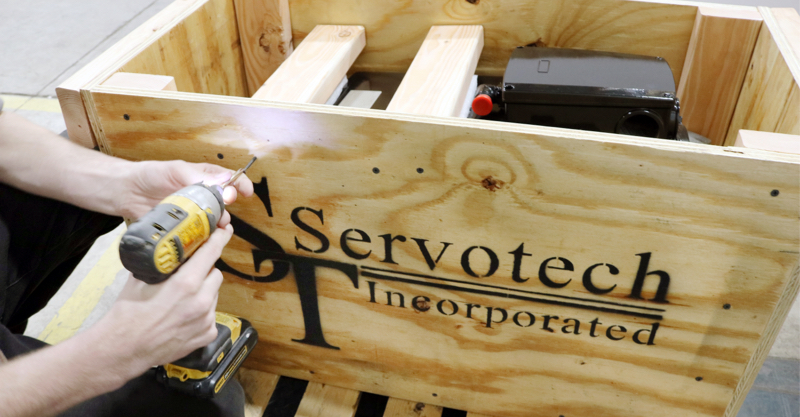 Our service doesn't end once the motor leaves our facility.
Each refurbishment is backed by a one-year in-service warranty which starts the day the motor is installed in the machine. Our team is here to help you with any questions or issues that may arise upon installation — and beyond.