Fanuc AC Motors Fanuc DC Motors Fanuc Spindle Motors
---
Fanuc AC Servo Motor Repair
Fanuc AC servo motors are extremely familiar to us due to their strong presence in the industry. In order to properly test and run these motors, our Final Testing department is equipped with the same Fanuc controls and drives that are used in the end application. This is how we can ensure that every Fanuc repair we perform is successful.

When an endbell breaks, the manufacturer would deem them unrepairable since they do not offer spare endbells. We have reverse engineered and machined brand new endbells for various sizes of Fanuc servo motors (which are available for purchase on our online store [link]). In addition to this, we have an extensive inventory of hard to find OEM parts such as Fanuc seals, encoder covers, and specialty connectors. Keeping these parts in stock at all times means we can get your motor repaired and back to you as quickly as possible.
The laminations on Fanuc servo motors are exposed, so they need to be sealed with an epoxy coating. Our paint department uses high quality epoxy paints to ensure the housing is fully encapsulated and contaminants have no way of getting into the motor. This small but crucial step is done on every Fanuc servo motor repair, and can extend the life span of your motor drastically.
---
Fanuc DC Servo Motor Repair
Fanuc DC servo motors are no longer made in production, but there are plenty of them still in use today. Our ability to perform quality repairs on these motors is necessary to keep these motors running. When you send a Fanuc DC servo motor to us, you can expect the motor to come back with brand new bearings, seals, and carbon brushes (some of which are available in our online store). Once the repairs are complete, a new coat of paint is applied and a new nameplate is put on. The final product is a motor that looks just as good as the first day it ran.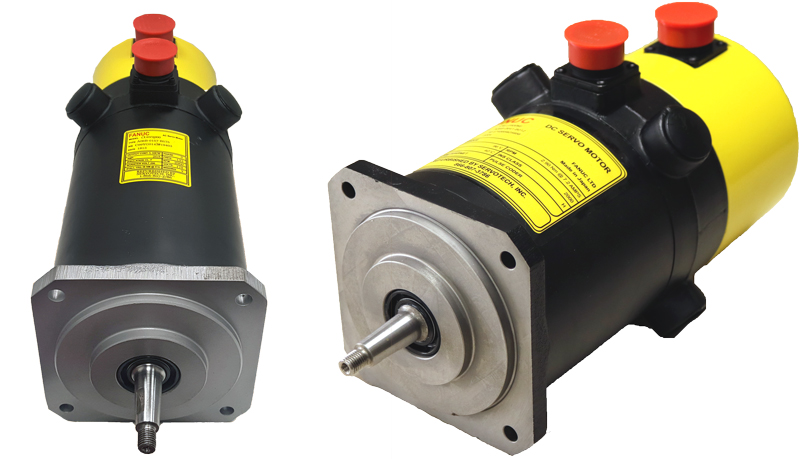 Many people realize that carbon brushes wear out over time and need to be replaced. Simply replacing the brushes may work, but where does all the worn carbon go? Trapped inside the motor, the carbon contamination can eventually lead to motor failure. That is why Servotech thoroughly cleans every part of the motor once disassembled – we don't just fix the problem, we treat the motor as a whole and refurbish it to good-as-new condition.
The leading cause of failure in these motors is due to carbon dust build up in the armature. This causes the armature itself to fail, and while many shops would deem the motor unrepairable, Servotech is fully capable of rewinding the armatures and replacing the commutators – another example of how our team is willing to go the extra mile to get you up and running quicker.
Since these motors are no longer made, replacement parts can be hard to come by. For this reason, we stock a huge inventory of discontinued parts. When a discontinued part is no longer available, we do utilize all our resources to manufacture a compatible replacement. You can rest assured that your Fanuc DC servo motor is in good hands when you send it to Servotech.